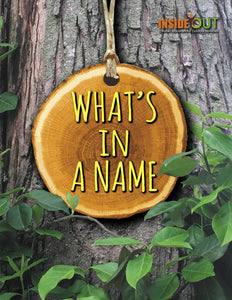 NAMING and CLAIMING who GOD MADE US TO BE

AVAILABLE NOW!
Names have great power. Some hold special meanings and some come with expectations. In a lifetime, we may give new meaning to our name or take a new name. Along the journey, we discover who we are and how God equips us to care for others.
In this new summer camp curriculum resource from InsideOut, we'll look at how the people of the Bible confronted expectations, confounded others' assumptions, and forged new identities. Campers are invited to use the sacred ground of camp to reflect on who they are as an individual and how they are connected to others. As we explore, we are reminded that God knows us beyond any name we might be called and invites us into relationship.
Campers will be assured that Christ's grace meets us when we make mistakes and his love greets us when we open our hearts. As we grow, learn, and discover our true self, we define our own name and find our place as a child of God.
Sample Pages from What's in a Name

What you'll find in What's in a Name
What's in a Name all-inclusive summer camp curriculum includes materials for a full week's worth of activities for different age levels. You'll find:

Bible study and community building activities for five age groups
Separate worship resources designed specifically for children and youth
Activity sheets to send home with campers for engaging families
Crafts, games, science and nature, multi-day projects, challenges and group building, and much more! 
What's in a Name Daily Overview
NEW for 2022: "Letters from Camp" – templates you can adapt and send out to campers and families all year long.
Order today and receive product download information in September!