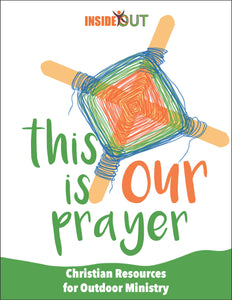 Discover new ways to connect with God!
Some of us speak our thoughts and feelings to God. Others are quiet, settling their hearts to make space for God. Some pray through music, art, or movement. Some pray out loud, while others' prayers are whispers of the soul. Whether we fold our hands and bow or raise them up and look to the sky, God is longing to connect with us. God hears our prayers. 
In this new outdoor ministry resource from InsideOut, campers will explore the shared longings of the human heart and all the different ways Christians have prayed throughout history. Through Bible stories and spiritual practices, we'll discover a deeper connection with God and each other and grow into the beloved community of God, where everyone is invited, loved, and celebrated for who they are. This is our prayer! 
Special Feature: Each day campers will experience a different prayer practice — a new way of communicating with God — such as a labyrinth, guided meditation, art, and call and response.
Helpful resources:
What InsideOut Is and How to Use It
Sample from This Is Our Prayer
This Is Our Prayer Promo Sheet and Daily Overview

Featured in This Is Our Prayer 

This Is Our Prayer all-inclusive summer camp curriculum includes materials for a full week's worth of activities for five different age levels. You'll find: 
• Bible studies centered on our longings and God's call to be a part of something bigger than ourselves 
• Daily themes focused on our desire to be included, connected, heard, guided, and renewed, as well as to create change and to celebrate 
• A new prayer practice for each day, such as prayer partners, a labyrinth, guided meditation, and collaborative art 
• Expanded worship section 
• Creative arts and crafts projects, games, and more 
• New this year: Take-home resources for families and congregations