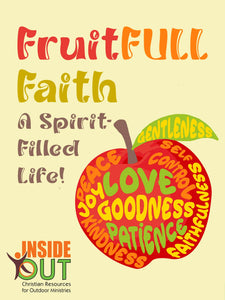 Finding and Sharing the Gifts of God
Available Now!

Have you ever seen God at work and wondered why the moment was so clear? Have you wondered what you could do to try and connect with those moments and feelings? Paul's letter to the Church in Galatia will come alive this week as we explore the "Fruits of the Spirit." Seeing this fruit all around assures us we have encountered God. We will see how these same fruits flow freely from us when we walk in the Spirit. Scripture is honest about how complicated life can be. The "Fruits of the Spirit" show us we are on the right track as we observe, receive, and embody these virtues.
Sample Pages from FruitFULL Faith 
What you'll find in FruitFULL Faith

FruitFULL Faith all-inclusive summer camp curriculum includes materials for a full week's worth of activities for different age levels. You'll find:

Bible study and community building activities for five age groups
Separate worship resources designed specifically for children and youth
Activity sheets to send home with campers for engaging families
"Letters from Camp" – templates you can adapt and send out to campers and families all year long
Crafts, games, science and nature, multi-day projects, challenges and group building, and much more!