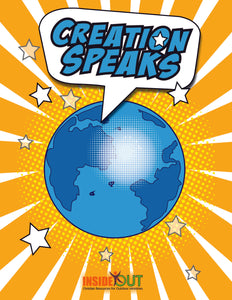 Creation Speaks! Are we listening?
In the beginning, God created. God is still creating now. What do God and Creation have to teach us about how to live today?
Creation Speaks invites us to look to God's Creation, including each other, as we listen for God's voice in the world today. By looking anew at the Creation story, campers will imagine what each part might teach us about God and our place in the world. Light, water, earth, seasons, animals, humans, and even a day of rest will invite campers to listen for God, still speaking to them today.
Through our new understanding of the interdependence of all creatures and responding to our call as caretakers of Creation, we are moved to awe and wonder at the gift of Creation and the Creator.
If the people of God stop and listen to Creation, what might we hear? Shhhh, listen. Creation Speaks!
Featured in Creation Speaks
Creation Speaks all-inclusive summer camp curriculum includes materials for a full week's worth of activities for different age levels. You'll find:

Daily Bible study exploring what Creation can teach us about God
Recommended focus activities for each day
Multi-day projects, crafts, and other extras to make your job easier
Daily worship resources for children and youth
Resources for connecting the camp experience to home and church
Creation Speaks Promo Sheet and Daily Overview
NEW! Creation Care Packet - A resource that helps bridge the gap between camp, home, and church!