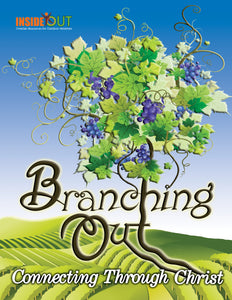 Solid, Biblical, and Fun — Order Now!
Camp lasts only one week. What campers take home from camp can last a lifetime.
Fun and Engaging
This summer, remind your campers that they can take that camp-feeling with them everywhere they go. Remind them that they are connected to one another and to God by Christ. The Bible stories in Branching Out encourage campers to use prayer, relationships, family, and more to stay connected throughout their lives.
And this year, you will find 8 weeks of Day Camp programming for your younger campers!
Includes:
Artwork—logos and graphics for T-shirts and promotional needs and daily icons.
Biblical Background Videos—7 short and entertaining videos to get staff and counselors quickly trained on the key scripture lessons of the day. Each video connects today's life issues with how the biblical concept is relevant to your campers daily lives.
Camp Resource—this is the core of the materials, with all the programming activities you need for all the age levels. Bible stories, devotion, educational activities that relate to the scriptures, staff devotions, whole camp worship, extra science/game/arts/nature activities and table talk topics. This resource comes in Word and PDF formats. PDFs are provided in several different combined formats to help you zone in on the parts you need to share with volunteers and staff.
Day Camp—for 8-weeks of programming including scripture-story time, daily snack ideas, devotion time, and daily and weeklong activities and projects.
Material for All Age Groups
Contains 7 days of material for:
Younger Children
Older Children
Older Youth
Younger Youth
Family/Intergenerational
plus 8 weeks of Day Camp guides
Each day, campers will learn to Branch Out. . .
Day 1: The Place Where We Camp
Day 2: I Am the Vine
Day 3: Love One Another
Day 4: I Chose You
Day 5: I Have Spoken to You
Day 6: Abide with Me
Day 7: I Abide in You
Free Available Downloads