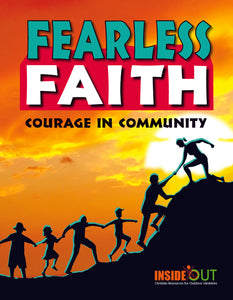 What does it mean to be a part of a Christian community? How can the Church be a resource that gives campers confidence and courage? Campers will explore how they themselves are a part of the Church and what that means about how we relate to one another and the world. Watch how the strength of Christian community casts out fear and replaces it with hope! The daily guides offer fun, age-appropriate plans for all ages (including families) to explore scripture, experience Christian community, and express joy through worship and song.
Includes:
More than 250 printable pages of camp activities and curriculum in PDF and Microsoft Word formats
Extra resources with additional arts & crafts, games, science fun, table talk prompts, whole-camp worship plans, and more
Biblical & theological overview for each day
Training materials, including a video, presentation slides, handouts, and exercises
High-quality customizable graphics
Day camp

A Note about Sharing InsideOut Resources: Governing bodies that own and operate more than one campsite must buy one copy of the curriculum for each campsite. Copies of the files may be made for use only within each campsite.